The American Express® Platinum Credit Card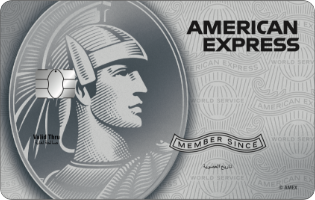 Benefits
| | |
| --- | --- |
| | Enjoy 0% interest on your purchases for the first 6 months* |
| | Apply now and get 20,000 welcome points* with your Platinum Credit Card. |
| | 2 Membership Rewards® points with every AED 4 spent. Redeemable at 14 airlines, 3 hotels partners and on merchandise from leading brands across fashion, electronics and more. |
| | Annual fee waiver with FeeBack* upon spending at least AED 10,000 within the first 3 months. |
| | Complementary Global Airport Lounge Access with Priority Pass™ for up to 12 visits with a guest. |
| | Comprehensive Retail Insurance for up to AED 5,400 and Travel Accident Insurance for up to AED 1,800,000. |
* Terms and Conditions apply.
FeeBack
With FeeBack, the annual fee on your Platinum Credit Card will be credited back to your Card account when you spend at least AED 10,000 within the first 3 months of receiving your Card.
To continue enjoying your complimentary Cardmembership year after year, simply spend AED 40,000 per annum.
Minimum monthly income: AED 21,250
Annual membership fee: AED 700 (AED 735 inclusive of VAT)
Annual interest Rate: 39%
---
Enjoy Real Rewards
Membership Rewards® programme is our way of thanking you for using the Platinum Credit Card. Earn 2 points with every AED 4 you spend on eligible purchases. Use your points to treat yourself to rewards from leading brands in travel, fashion, electronics and more.
SPEND
AED 5,250 per month
---
EARN
31,500 Membership Rewards points per annum
---
REDEEM
Redeem for AED 1,000 Voucher from RIVOLI
SPEND
AED 9,000 per month
---
EARN
54,000 Membership Rewards points per annum
---
REDEEM
Redeem for a return trip ticket to London *
SPEND
AED 19,200 per month
---
EARN
115,200 Membership Rewards points per annum
---
REDEEM
Redeem for Apple Watch series 6
*Terms, taxes, fees and carrier charges apply.
---
Global Airport Lounges Access
The American Express® Platinum Credit Card brings you and 1 guest an enhanced travel experience with Priority Pass™:
Complimentary enrolment to the Priority Pass™ programme for Cardmember
12 complimentary visits with a guest, per annum to Priority Pass™ lounges*
Access to more than 1,300 lounges across 140 countries
Easy access to lounges with Priority Pass™ Mobile App
Upon exceeding the number of visits or accompanying guests, a charge of US$ 32 per person will apply
* This benefit is applicable for Basic Cardmembers only. Complimentary guest visits are inclusive of 12 complimentary visits.
Enroll your Card via the AMEX MENA App or online services.
---
Protection
Your Card is your key to peace of mind. That's because we protect you and your Supplementary Cardmembers with comprehensive worldwide insurance policies along with Online fraud protection guarantee.
Travel Accident Insurance for up to AED 1,800,000
Travel Inconvenience Insurance for up to AED 5,400
Retail Protection Insurance for up to AED 5,400
What's more, you can submit and track your claims status online. Click here to raise your claim. Your policy number is 'AMEX13'.
Terms & Conditions apply.
Online Fraud Protection Guarantee
If you do become a victim of fraud, our Fraud Protection Guarantee means you won't be held responsible for any fraudulent charges, provided you've taken reasonable care to protect your Account details, PIN and any device on which you store your Account information.
Further Benefits
Your American Express® Platinum Credit Card provides you with many benefits to live your life to the fullest.
Local and regional offers brought to you by Amex Offers
24/7 Customer Service
---
Supplementary Cards
Extend your Cardmembership privileges to the special people in your life by enrolling them for a Supplementary Card. With up to 2 complimentary Supplementary Cards, any of your immediate family members who are over 12 years of age can enjoy the same Card benefits. Additional Supplementary Cards can also be obtained at a fee.
---
Eligibility Criteria
Before registering your interest, make sure you can say 'Yes' to the following:
I am aged 21 or over
I am a resident of the UAE
I have an annual income of at least AED 255,000 (employed)
If self-employed, with an annual income of at least AED 275,000
---